On July 23rd I headed out to Lake Elsinore Motorsports Complex for rounds 7 and 8 of the Lucas Oil Off Road Racing Series (LOORRS).  After holding rounds 5 and 6 at the same location in brutal 105+ degree heat and humidity the organizers decided to do this one at night in hopes that the cooler temps would bring out more fans.  I was excited about this for two reasons.  First, the cooler temps, it was ridiculously hot the previous month and I really lost interest in shooting fast due to the conditions.  Secondly was the night time itself.  I love shooting off road racing at night.  While I enjoy the desert the rather plain tan colored backgrounds and bright sunlight get a bit old and shooting at night gives me a chance to get a totally different look and also experiment with new ideas and lighting.
My usual 60+ pounds of photo crap was in the truck and I also grabbed all my lighting gear: strobes, stands, sandbags, softboxes, umbrellas, snoots, batteries,  generator and some other crap.  I set out for LA the night before practice was to begin.  A side note here, I grew up in Northern California and now live in Arizona, so for me LA is everything South of the Grapevine, North of San Diego and West of Blythe.  The skies and highway looked cool while driving out so I grabbed the camera.  I have become pretty adept at shooting while driving over the last few years.
Nikon D700, 24-70mm, ISO 6400, F2.8, 1/25th.
The trouble started shortly after crossing the border.  It was 10:30 on a Thursday night and yet somehow while driving West on I-10 I had come to a complete stop, for 45 minutes.  This is why I hate driving to, near or around LA, gridlock happens anywhere, anytime.  I eventually made it to the hotel and then out to the track the next morning for a safety meeting and practice.
Nikon D700, 24-70mm, ISO 6400, F2.8, 1/250th.
Nikon D700, 24-70mm, ISO 6400, F2.8, 1/500th.
While driving I always keep an SLR with a wide angle or at least a point n shoot camera handy as I never know what I will find.  While at a stoplight near the hotel I see this dude walking across the street jamming on his guitar totally oblivious to the world around him.
Nikon D700, 24-70mm, ISO 6400, F2.8, 1/100th.
I was hoping that the track layout would be changed in the month between races but unfortunately it was the same.  Shooting the same thing back to back like that always sucks but I knew the nighttime race would give it a different look.  This did not help practice as it was during the day.  Having already shot all the same drivers in the same corners I pretty much just setup to get crashes.
Just 4 laps into the first session of Unlimited 2 Rodrigo Ampudia crashed on the front straight.  This was maybe 50 feet from his big crash in Round 5.  I was shooting on the hill above the backstraight and swung over to catch the end of the crash.   I liked the shot mainly because of the guy in the flagstand but in the end the K rails ruined the shot making it basically worthless.
Nikon D700, 400mm, ISO 200, F5.6, 1/800th.
There was no good action the rest of the session and afterwards I went back to the pits to grab some atmosphere and pit photos.
Nikon D700, 24-70mm, ISO 200, F9, 1/250th, SB900 off camera.
Nikon D700, 70-200mm, ISO200, F5.6, 1/80th.
You might remember ACP as the guy who came up short on the crossover jump at the 2008 X Games rally.  Video

I showed up a bit late for the next round of practice which actually worked out in my favor.  It was too late to cross the track as it was hot so I climbed up to the flagstand looking for a new angle.  Shooting with my 70-200 was mediocre.  I got a couple of nice shots as they came off the final corner but many drivers were taking the inside line which put them in line with the shitty backgrounds that are all over this track.
Nikon D300, 70-200mm, 1.4TC, ISO 200, F7.1, 1/500th.
Nikon D300, 70-200mm, 1.4TC, ISO 200, F7.1, 1/640th.
I decided to try some wide angle shots and grabbed my fisheye.  I was really happy with how these turned out.  It's a shot I have not seen before so it gave me something unique.
Nikon D700, 16mmFE, ISO 200, F7.1, 1/1000th.
For the Qualifying session I went back on the track looking for more crashes.  I thought I had good odds since I set up at the tricky frontstraight jumps, we had a couple of drivers new to the track and the natural tendency of someone would push a little too hard in qualifying.  Earlier in the day the track crew had reshaped the frontstraight jumps which really made them easy for the drivers.  So with no carnage coming my way I setup to shoot some slow pans.  I like the look and it helps get rid of the backgrounds that ruin photos at this track.
Nikon D700, 70-200mm, ISO 200, F22, 1/80th.
During the Unlimited 4 session Kyle LeDuc was pushing hard and got up on the bicycle in turn 1.  I was worried the shots would not turn out due to the slow shutter speed but today I got lucky and they were sharp enough and made a cool shot.
Nikon D700, 24-70mm, ISO 200, F18, 1/100th.
On the track the action was pretty boring but since I had all my lighting gear I suggested to a client that we get in some simple portraits of the team after qualifying and he readily agreed.  I did a simple lighting setup behind their pit and ran the crew through rapid fire, one every 10-20 seconds.  The results are not what I would call my best work but given the circumstances I thought they were adequate.
Nikon D700, 24-70mm, ISO 200, F14, 1/250th.
Nikon D700, 24-70mm, ISO 200, F14, 1/250th.
I hit the track around 5 PM on Saturday for Round 7 under the lights.  None of the lights were on site on Friday and I was wondering what they would use.  In each of the four corners of the track was a large semi sized truck with a big extendable boom full of stadium lights.  I was immediately skeptical that these 4 trucks alone would provide enough light for the entire track and I thought the drivers would have lots of trouble with dark spots.  As the sun went down and the lights went up I was pleasantly surprised.  The entire track was well lit and the drivers agreed.
"It was dark from behind the wheel but it was not too dark, just something different.  You have a harder time seeing shadowed ruts but it was good racing and we need to do more Saturday night racing without a doubt." – Unlimited Lite driver Rob Naughton
I decided to use two Alien Bees 1600 strobes to light the racers.  I chose the 1600s as I can run them at low power like 1/16th and get a decent recycle time so I can shoot multiple frames of each driver.  I set the lights up below on the tabletop leading into turn 5, and I stood in turn 6.  This had me shooting into the setting sun but the idea was that the strobes would light the cars with a nice sunset sky in the background similar to what I did at the MDR Coyote Wash 200 in June.
Nikon D700, 24-70mm, ISO 250, F3.2, 1/250th, AB1600.
By putting them low I wanted to light the underside of the cars, a part rarely seen outside of a crash.  The lights were powered by two of the Vagabond battery packs by AB.  The don't cycle as fast as direct power but since I parked a long way from the track I really didn't want to haul the generator all that way.
Nikon D700, 70-200m, ISO 1600, F5.0, 1/250th.
Nikon D700, 70-200mm, ISO 1000, F2.8, 1/250th.
I double checked all my connections and power settings and setup in turn 6 for the start of the race.  The pacetruck led the Limited Buggy class around the track, they drove over the tabletop and I fired a couple of shots.  Shit!  The lights are not working, everything is dark.
I tried some more test shots, the right strobe was firing once in awhile and the left not at all.  This was going to be a problem.  I was line of sight to the lights and Pocket Wizards, maybe 150 feet away.  There should not be an issue.  At this point I figured that I was screwed, not good at all.  I did have an SB900 flash with me and I shot some of the cars in turn 6 but they all looked like garbage to me.  Now I still had a great sky in the background so instead of giving up I stopped down to black out the cars and shot them on the tabletop leading into 5.  While not wazoo triple throwdown action shots I was very pleased with the results.  I did some similar shots for the Unlimited Buggies that followed.
Nikon D300, 24-70mm, ISO 200, F20, 1/400th.
Nikon D700, 70-200mm, 1.4TC, ISO 200, F5.0, 1/250th.
They was still decent available light in the short chute between 5 and 6 and some nice skies to the North but there was a big stupid ugly light tower in the background trying to ruin the shot.  I grabbed a wide lens and a star filter so I could incorporate the light tower into the shot without ruining it.
Nikon D300, 24-70mm, ISO 800, F3.2, 1/400th.
After the buggies I went over to turn 5 thinking that might work since it was a bit closer to the lights.  One was still failing entirely so I moved that into the apex of turn 5.  At the night the dirt was holding a lot more moisture and created a new fast line on the outside for the drivers.  I prefer my shots with the drivers on the inside but when they went out I was able to incorporate both light towers into the shot.
Nikon D300, 24-700mm, ISO 1600, F2.8, 1/250th.

Nikon D700, 24-70mm, ISO 1000, F2.8, 1/250th. AB1600.
I moved the first light closer to the landing of the table top and closer to me to light the jump.  This would be a totally different shot that I originally planned but the sidelight gave me some results I loved.  I also stopped my camera down so I would have a nice deep black background to contrast against the cars and so you would not be able to see all the crap that would otherwise clutter the shot.
Nikon D700, 70-200mm, ISO 1000, F2.8, 1/250th, AB1600.
Bob Ross was right on the money with his Happy Accidents line.  I was shooting my AB off a battery and it takes a little while to get a full charge back in the strobe.  In the shot below it went off with a partial charge with just lit the edges of the trucks to make a very cool shot.  Being lucky pays off again.
Nikon D700, 70-200mm, ISO 1000, F2.8, 1/250th, AB1600.
Another photographer had a strobe setup right next to mine and both happened to light this shot at just the right time.  The car is way blown out but I actually like the result.
Nikon D700, 400mm, ISO 6400, F2.8, 1/250th, AB1600, AB800.
While shooting the tabletop I missed crash after crash that happened in turn 5 and 6.  That's the way your luck goes sometimes.  After Greg Adler crashed his Unlimited 2 I did manage some cool photos of the track crew attending to him.
Nikon D700, 70-200mm, ISO 1000, F2.8, 1/250th, AB1600.
Towards the end of  the Unlimited 4 race I noticed smoke coming from leader Kyle LeDuc's truck.  I knew this would make a cool shot with the smoke trail arcing behind him off the jump so I setup and waited for his next lap.  I blew the first shot, made a few adjustments and nailed it on the second time around.  This is one of my favorite shots of the weekend.  Its simple but to me it tells a great story about the race.
Nikon D700, 70-200mm, 1.4TC, ISO 1000, F4, 1/250th, AB1600.
Nikon D700, 70-200mm, 1.4TC,  ISO 1250, F4, 1/250th, AB1600.
With Round 7 done I left the track kind of pissed off.  My transmitter had failed and even though I made the best of it I was disappointed with my photos that day.  I headed over to a nearby Chilis (damn you Rebilas!) to grab some food, some beers and to edit and transmit some photos.  I met fellow photodork Dirk Nasland and my editor from Off-Road.com Josh Burns (some more round 7 photos at the link).  As I looked through my shots on the laptop I realized they were much better than I thought when checking them on the LCD at the track.  What I thought was a bunch of mediocre photos turned out to be some great. I pulled about 15 photos for Josh to go with his story so he could get it posted that night.  From there it was back to the hotel for more editing.  I next pulled shots for the wire and transmitted those followed by a batch for a client so they could get out a press release in the morning and finally a few different shots for Race Dezert (RDC) so the folks stuck at home could get some info on the night's racing.  I wrapped it up about 4AM and got some much needed sleep.
Round 8 on Sunday was going to start one hour earlier but I was still able to catch the Hungarian Grand Prix (Formula 1) on TV before heading to the track.  I got there early, about 3 PM so I could get some more pit shots and get some driver interviews I needed for a story I would be writing after the race for Dirtsports magazine.
I setup my lights at the front of the track for Round 8.  I put one on the first jump of the frontstraight and the second on the rhythm second between 2 and 3.
Light setup shot
From this location I could get 5 different shots by just walking around within a 20 foot circle.  The buggy races started while the sun was still out and there was a nice golden light on the track so I walked over to turn 3 to shoot them coming through the rhythm section.  With just the right angle you can get a clean background with the homes on the mountain across the freeway.
Nikon D700, 24-70mm, ISO 200, F6.3, 1/500th.
Turn 3 has the same nice light so I shot some slow pans as the cars came in hard.
Nikon D700, 70-200mm, ISO 200, F13, 1/40th.
My bad crash luck continued as a Limited buggy rolled just in front of me in turn 3 while I was shooting at 1/30th.  As expected all the shots suck.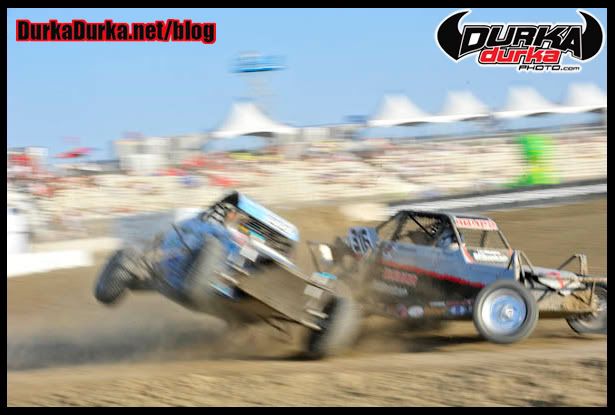 Nikon D700, 70-200mm, ISO 200, F20, 1/30th.
I moved to the frontstraight for the start of truck races.  With another big light tower in the background I grabbed the star filter and used it in the shot.
Nikon D700, 70-200, ISO 500, F3.5, 1/250th, AB1600.
I would start the race between the two jumps with a 70-200 then move back and use the 400 to get tighter.
Nikon D700, 70-200mm, ISO 640, F2.8, 1/250th, AB1600.
Nikon D700, 400mm, ISO640, F2.8, 1/250th, AB1600.
From there I looked to the back of the track and used available light to shoot huge tabletop on the backstraight.
Nikon D700, 400mm, ISO 3200, F2.8, 1/250th.
I then shot the rhythm section with a strobe and into turn 3 with available light.
Nikon D700, 70-200mm, ISO 800, F2.8, 1/250th, AB1600.
Nikon D700, 400mm, ISO 6400, F2.8, 1/400th.
The rhythm section had some mini light towers from the hot pits in the background to I used the star filter again to bring them into the shot.
Nikon D700, 70-200mm, ISO 1000, F2.8, 1/250th, Ab1600.
Lastly I used available light to shoot some slow pans on the second jump on the front straight.
Nikon D700, 70-200m, ISO 4000, F2.8, 1/200th.
Nikon D700, 70-200mm, ISO 6400, F2.8, 1/100th.
While shooting turn 3 my crash luck finally changed, sort of.  Unlimited 4 driver Jerry Daughtery rolled in turn 3 but I caught the tail end of the crash.  I was shooting available light and it was dim so the focus and shutter speed were a bit slow.  The first few of the sequence were OK but as he moved right a really ugly K rail came into frame forcing me to use a really odd crop to get rid of it.  On the upside the skies had great cplor from the sunset that helped to turn a mediocre photo into a cool shot.
Nikon D700, 70-200mm, ISO1000, F2.8, 1/250th.
Nikon D700, 70-200mm, ISO1000, F2.8, 1/250th.
Nikon D700, 70-200mm, ISO1000, F2.8, 1/250th.
When the race ended I packed my gear and drove to Dennys to start editing and get some Grand Slam action.  As with after Round 7, I transmitted photos to Off-Road.com, US Presswire, clients and RDC.
I had a variety of problems during the trip but in the end I was very happy with the results.  Simply put nice racing kicks ass!
Nikon D300, 17-55mm, ISO200, F4, 1/200th.
See more of my photos from LOORRS Rounds 7&8 here.